The Question that always asked to those who are looking for a way "How to Start Savings and Investing in Gold and Silver " and "Why Gold & Silver"?
One Gold Dinar is a Platform that gives you more Information and Tips on Gold, Silver, Dinar & Dirham. We provide a transparent Gold Price 24 hours and 7 days a week where you can buy and sell Gold and Silver on-line at Market Price (Spot Price) without hassle.  One Gold Dinar offers Public Gold Bullion with a variety of difference sizes, from coins to cast kilo bars.  Below are the price of Gold and Silver that we offer to the Public.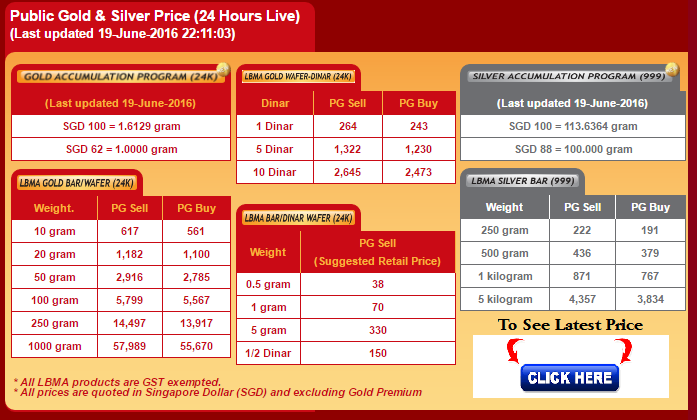 The Good News is GST on the import and export of precious metal was lifted on Oct 2012 in Singapore.
It is expected local demand for Physical Gold to increase by about 10% due to pent-up demand. It is also expects increased demand from overseas customers who want to buy gold and store gold in Singapore.
This is the most Risk-Free form of investing in gold as investor can actually hold the bars.
Our Gold & Silver comes with LBMA accredited Nadir Metal Refinery which Exempted from GST.
One might think to start investing in Gold and Silver Bullion need a lot of Money. We have a savings program called 'Gold Accumulation Program' (GAP) where you can start Gold Savings as Low as 1g of Gold. 
To Start with, become a Smart Customer Now >>> CLICK HERE