How to Transfer Money to Your GAP Account.
I assume you already have your PG Code No and Password to log in the Public Gold Website. If you don't have it, you can create your GAP account Click Here
Here are Seven (7) Easy Steps.
Step 1 - Make payment to Public Gold - MayBank Malaysia
You can check the GAP price at Public Gold website click here >>>  www.publicgold.com.sg (S'pore) / 
www.publicgold.com.my (M'sia).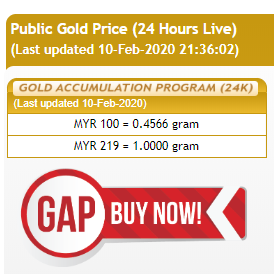 Picture: GAP Price as of 10-02-2020 = MYR 219 for 1 gram*
Click DBS Remit and Overseas Transfer
Malaysia: Public Gold Marketing - Maybank Account No: 5571-3923-8048  MayBank for GAP (Select DBS Remit and Oversea Transfer)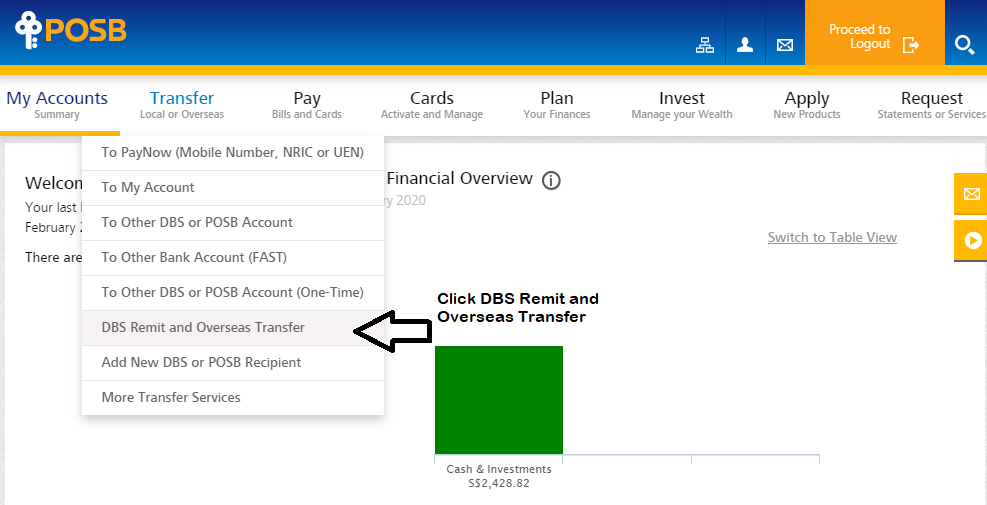 STEP 2 - Select the amount to transfer ie below shows MYR219 for 1 gram*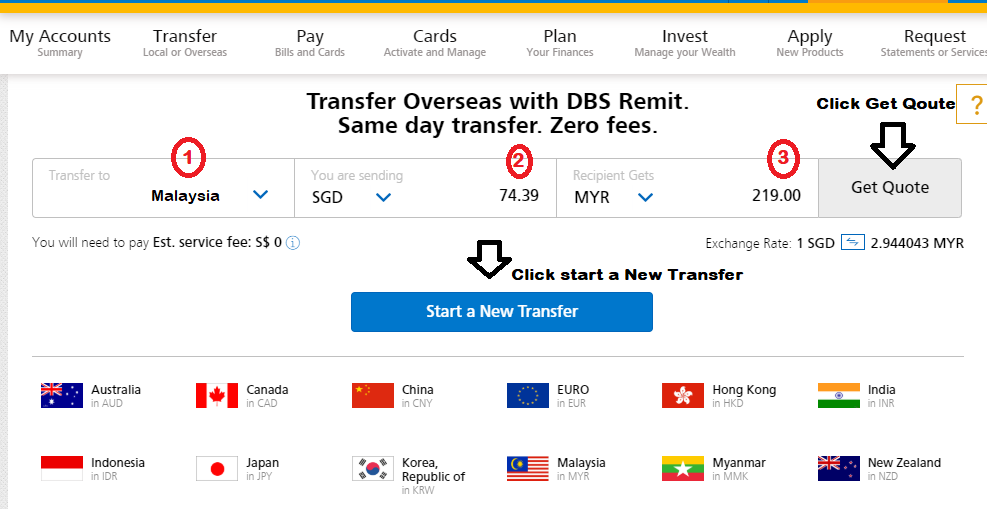 STEP 3 - Verify Account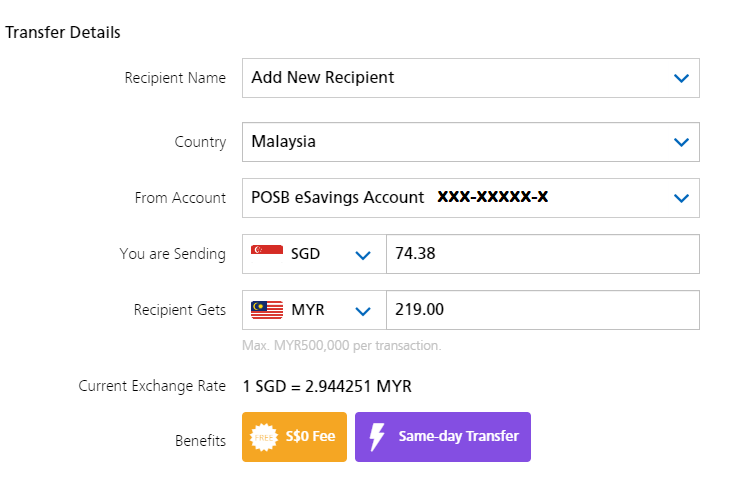 STEP 4 - Enter Recipient Address
Recipient Name : Public Gold Marketing
Recipient Address: Plot 21 Technoplex, Medan Bayan Lepas, phase IV 11900 Bayan Lepas, Penang 
Recipient Bank: MAYBANK
Swift Code: MBBEMYKLXXX
Recipient Account No: 557139238048
Purpose of Remittance : Personal Transfer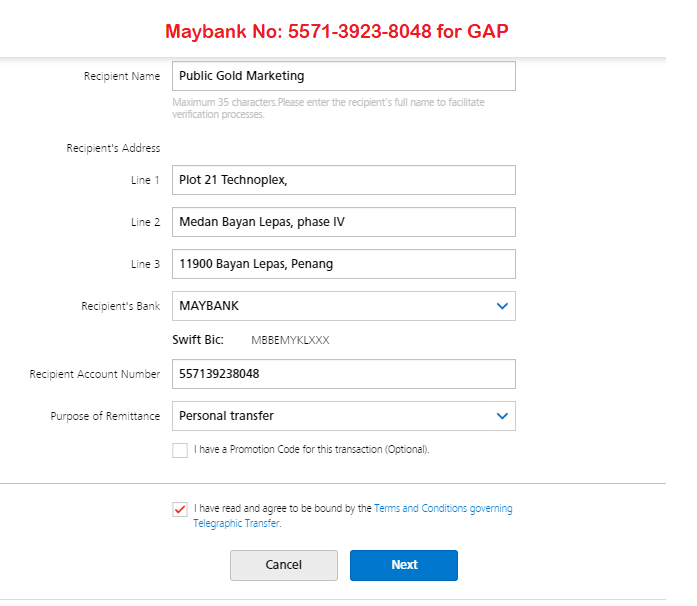 Step 5 - SceenShot Bank in Slip as Future Reference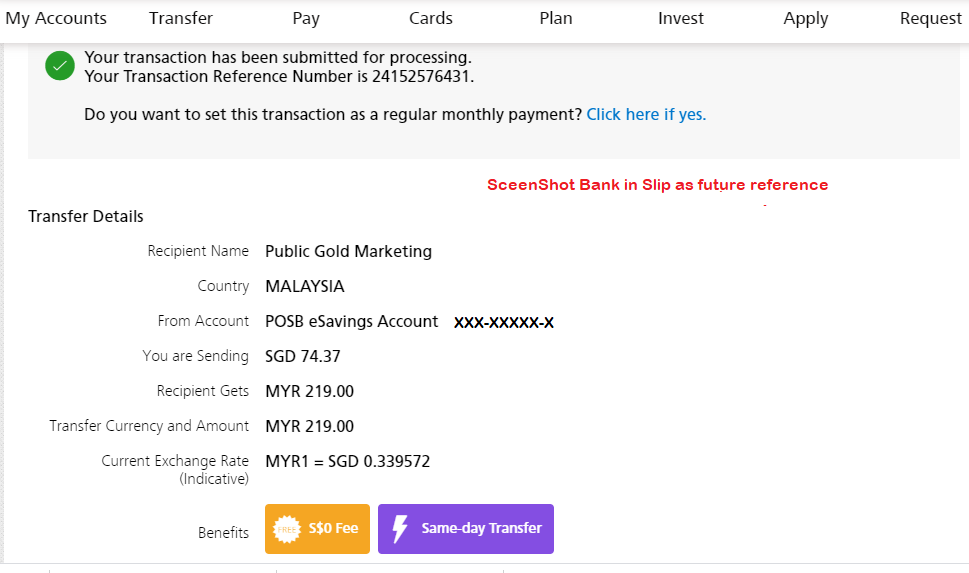 Step 6 - Sceenshot and Upload DBS Malaysia Remit Letter to Your GAP Account.  Please check Your email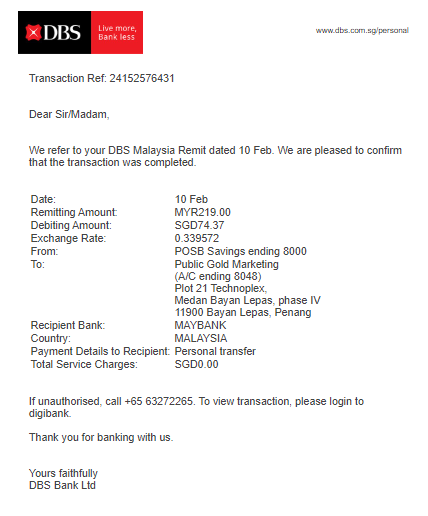 Step 7 - Log in to Public Gold Website (Username and Password) and upload as below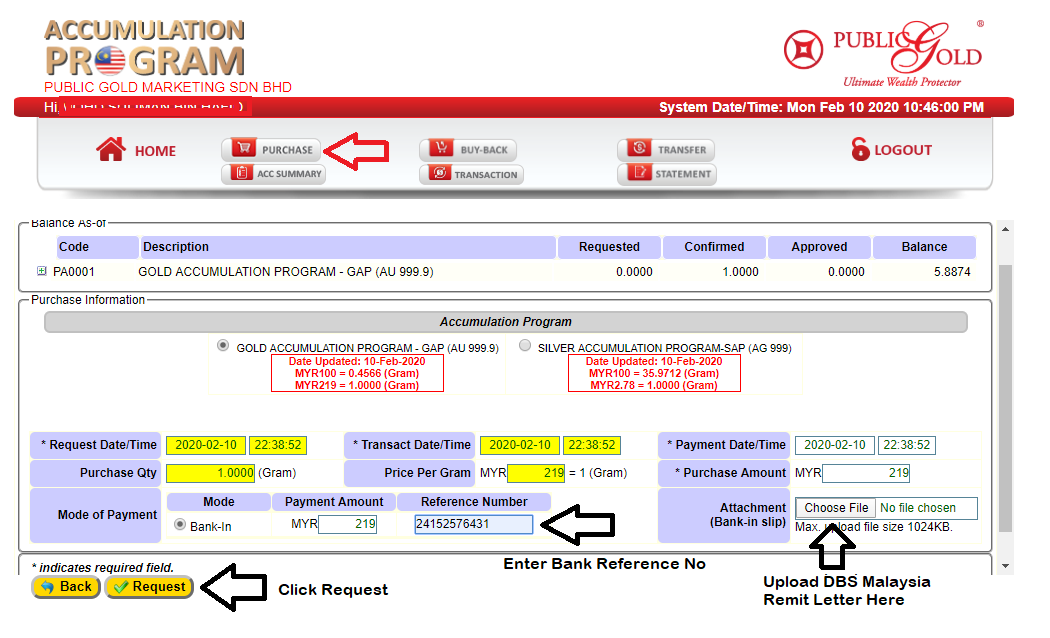 Click Request button and Your GAP purchase will be processed within 48 Hours.  
Please counter check your GAP Account Statement at public gold website to ensure that your purchasing already approved. 
www.publicgold.com.sg  (for Singapore)
www.publicgold.com.my (for Malaysia)
www.publicgold.co.id (for Indonesia)
Click Transaction to see history
You should be able to see your GAP transaction here.

Picture : GAP Account Statement
*Important Note:
To stay active - your GAP account must be at least 1 gram remain in the account.  This 1 gram can be withdrawn when closing your GAP account.
You can redeem in the form of Physical Bar or Coins from 1 gm to 1 kg and 1/2 Dinar to 10 Dinar at any Public Gold Branches in Singapore, Malaysia and Indonesia during office hours.  
Product Premium will be applied when redeem Physical Gold Bullion: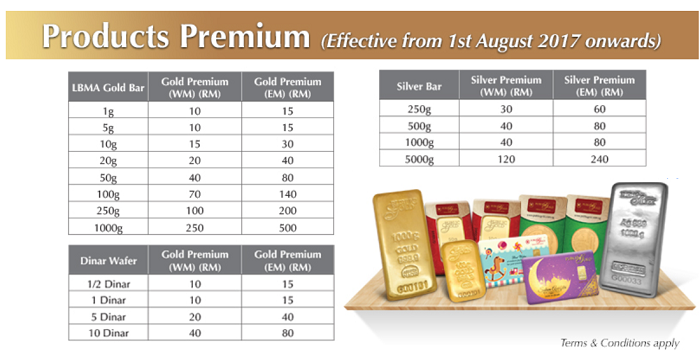 Picture: Products Premium
If you need any further assistance or have queries regarding Gold Investment. Please do not hesitate to contact me on the undersigned.
MOHD SULIMAN HAFID - PG 027857
Master Dealer for Singapore
SMS/WhatsApp +65 9224 6333 (Spore) +6 016 6825 003 (M'sia)
Like Us at Page OneGoldDinar