3.        Gold is the only currencies not created and controlled by governments.  Today's government currencies are 'fiat' currencies.  A flat currency is defined and created by government, and it's brought into existence by government decree while the value of gold is independent of any government laws.  Unlike fiat currencies, gold is acceptable as valuable without needing protection by laws.
4.        Gold treats everyone equally, unlike fiat currency, no one can conjure gold up out of thin air to spend for themselves and get others to do their bidding.  Gold has to be mined, once by hard-won once.  It is because the supply of gold can only increase slowly.  Prices in terms of gold trend to stay approximately constant for centuries and its changing mainly due to technological influences that makes some goods relatively easier or harder to make.  
The creation rate of the currency accelerated significantly, leading to today's worldwide bubble in asset prices.  
In the pain of the bubble period, government will come under pressure to return backing their currency with gold.  The world would one-day rely on gold to be its sole medium of exchange. Currencies would no longer float against one another, therefore foreign currency exchanges, currency risk, currency hedging, and currency speculation would disappear. 
Adapted from : www.gold-eagle.com
Look at World Official Gold Holdings you will now understand why every country keep Gold.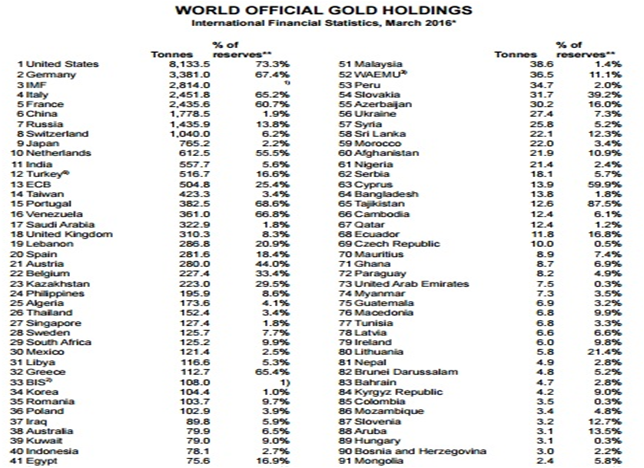 1. United States
The world's largest economy currently holds 8,133.5 tonnes of gold, representing approximately 72% of its foreign reserves. Interestingly, U.S. gold reserves have been pegged at approximately 8,133.5 since the first quarter of 2005.  
6. China
From 2008 to 2009, China's central bank increased its gold reserves 75% to 1,054 tonnes. China has not updated its bullion reserves since then. As the world's largest producer of gold, suffice it to say, China has been quietly adding to its reserves.
11. India
India currently holds 557.7 tonnes of gold, representing 6.8% of its reserves. India's central bank increased its gold holdings by 56% in 2009.
MOHD SULIMAN HAFID - PG 027857
Master Dealer for Singapore
SMS/WhatsApp +65 9224 6333 (Spore) +6 016 6825 003 (M'sia)
Like Us at Page OneGoldDinar